Logos are an essential part of a brand's identity and can make a significant impact on how it is perceived by consumers. Therefore, it is crucial to have a logo that is not only aesthetically pleasing but also represents your brand's core values. In recent years, artificial intelligence (AI) has revolutionized the way
we design logos
, making it more accessible and affordable for businesses of all sizes. In this article, we will explore the top AI tools for designing professional logos.
What is an AI Logos Design Tool?
An AI logos design tool is an online platform that uses artificial intelligence (AI) algorithms to help individuals and businesses create professional and customized logos. These tools allow users to input their preferences and requirements, such as font styles, colors, and image ideas, and the AI algorithm will generate logo designs based on those inputs. The user can then select and customize their preferred logo design, making changes to the font, colors, layout, and more. AI logo design tools have become increasingly popular due to their convenience, affordability, and ability to produce high-quality designs in a short amount of time.
Benefits of Using AI for Logo Design
Before we dive into the top AI tools for designing professional logos, let's take a moment to explore some of the benefits of using AI for logo design.
One of the biggest advantages of using AI-powered logo design tools is the speed and efficiency they offer. With the help of AI algorithms, these tools can generate hundreds of logo options in a matter of minutes, saving businesses and individuals significant time and money.
Another major benefit of using AI-powered logo design tools is their cost-effectiveness. As mentioned earlier, hiring a
professional designer or design agency
can be expensive. AI logo generators, on the other hand, are often available for free or at a much lower cost, making them a great option for businesses and individuals on a tight budget.
Despite their speed and cost-effectiveness, AI-powered logo design tools still offer a range of customization options. Many of these tools allow users to input specific design preferences, such as color schemes, font styles, and symbols, resulting in a logo that is tailored to the user's needs.
Top AI Tools for Designing Professional Logos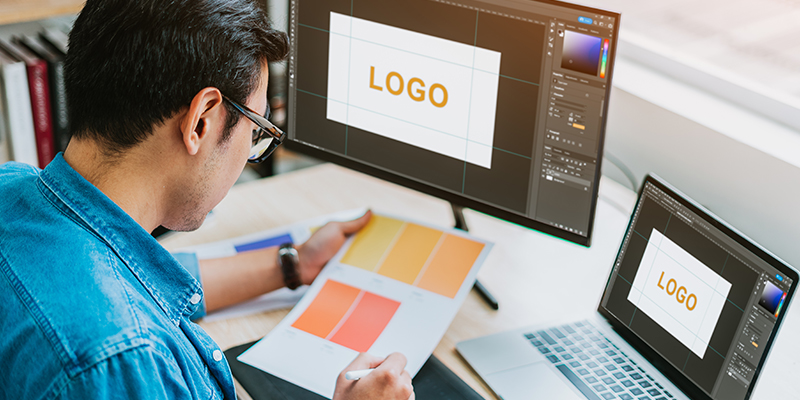 Now that we've explored some of the benefits of using AI for logo design let's take a closer look at the top AI tools for designing professional logos.
Logomaster is an AI-powered logo designer that caters to small businesses, startups, and professionals. If you're on a tight budget, Logomaster is an excellent option, as it is ten times cheaper than hiring a professional logo designer. The platform offers over 100 templates that you can customize as per your requirements. Over the years, Logomaster has created more than 56,000 logos and has served over 3,000 clients.
Designhill claims to be the best ai tool for logo design, having served over 10 million clients and created over two million logos. This AI logo maker is ideal for anyone who wants to create a logo effortlessly. With a community of over 125,000 designers and artists worldwide, Designhill allows clients to source high-quality designs or templates from the platform.
Designhill's premium icons, graphics, fonts, and other design details are some of the reasons why clients love the platform.
Brandmark's powerful AI logo generator allows users to customize their logo for free and create it using thousands of ready-to-use design assets. The platform offers easy editing, quick export to all major formats, unlimited revisions, convenient text and image size adjustments, and more. You can also use Brandmark in your browser without downloading any software program.
Shopify Hatchful is the best ai tool for a logo design that can help you design and customize your ecommerce branding in a few steps without any graphic design know-how. The platform offers time-saving templates, accessible social media assets, a logo creation design studio, easy customization for your industry, and a brand recognition builder.
DesignEvo provides users with a straightforward tool to create compelling and unique logos in minutes. It has a user-friendly interface and more than 10,000 AI logo design templates that you can browse for inspiration.
DesignEvo also allows users to customize their logos by selecting their preferred font styles, colors, and shapes. Once the logo is complete, it can be downloaded in high-quality formats like SVG, PNG, and JPG.
Logo AI's platform combines data and design best practices to produce unique and beautiful logo designs. It creates new logos for each client rather than using fixed templates, making the design process more customized. Logo AI's design process involves three simple steps: enter your brand name and design specifications, get endless possibilities from the AI platform, and edit the logo by changing layouts, colors, fonts, symbols, and more. You can then download the source file in PDF, JPG, or PNG formats.
Tailor Brands is an all-in-one platform that helps individual business owners, startups, and small businesses worldwide. The AI logo maker has over 30 million users worldwide and over 50 million designs created. Tailor Brands initially started offering logo creation, but it has now expanded its services to include branding, websites, and other marketing assets.
Looka was founded in 2016 as Logojoy by Dawson Whitfield, who had struggled with the traditional logo design process due to back-and-forth revisions with designers. To address this issue, he created a platform that made logo design easy and fun for everyone. Looka's AI logo maker has since gained popularity among five million users across more than 180 countries.
Looka's logo maker offers an easy and enjoyable logo design experience that delivers beautiful logos in just minutes. Notable features of the platform include high-resolution files, social media templates, vector files, color variations, royalty-free logos, and lifetime support.
We have covered a detailed guide on Top AI Tools for Designing Professional Logos. The use of AI tools for designing professional logos has revolutionized the logo design industry. With these AI tools, businesses of all sizes can now create professional-quality logos in a matter of minutes without the need for expensive graphic designers or design software. So, whether you're a startup on a tight budget or a larger business looking to streamline your branding process, these AI logo design tools are definitely worth checking out.
Can I use AI logo design tools for free?
Yes, many AI logo design tools offer a free version that allows you to generate logos without any cost.
What is the best AI tool for logo design?
There are several AI tools for logo design, including Canva, Tailor Brands, Looka, and Designhill. The best AI tool for your logo design will depend on your specific needs and preferences.
Is it possible to get a high-quality logo for free with an AI logo generator?
Yes, some AI logo generators offer high-quality logos for free. However, these logos may come with watermarks or limitations on usage rights.
Can I make changes to an AI-generated logo?
Yes, many AI logo design tools offer customization options, such as font styles, color schemes, and symbols, which allow you to make changes to your logo.
Are AI logo design tools easy to use?
Yes, most AI logo design tools are user-friendly and easy to use, even for those without design experience.
How do I choose the best free AI logo generator for my needs?
When choosing the best free AI logo generator for your needs, consider factors such as pricing, customization options, design quality, and user reviews. It's important to choose an AI logo generator that meets your specific requirements and offers the features you need to create a professional-looking logo.
Can I trademark an AI-generated logo?
Yes, if your AI-generated logo meets the trademark requirements, you can trademark it just like any other logo.
---