Creating your own website from the scratch can seem like a daunting task. Luckily, there is WordPress software to help you build a professional website conveniently for your business. 
You don't have to be an expert to create or need to possess any coding skills to build a website. WordPress offers you all the building blocks and styles for your website that suit your business needs.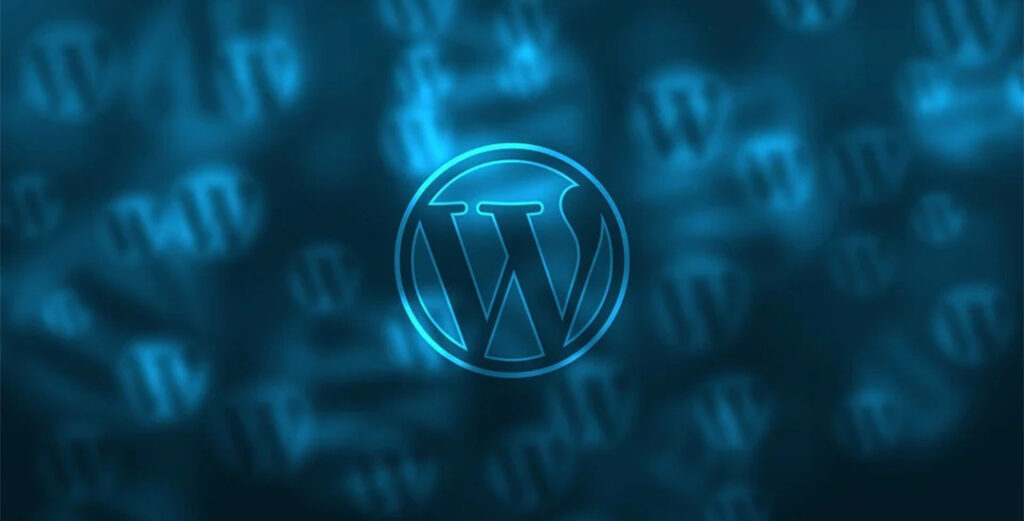 Now you have decided to build a website. Good, I am going to teach you how to set up your website like a pro. 
Before you start a website, you need to purchase a domain name and a web host
A Domain name is where people can access your website. 
For instance, entellusco.com is the name of the website 
Website host where all your website data is stored
WordPress platform lets you purchase and register both domain names and hosting plans.
Is it possible to build a website for free?
Yes, you can. 
If you use a free plan, your website will be automatically generated as a subdomain of WordPress.com, so you won't get a domain name or hosting services. Hence, the URL for your site will be http://mywebsite.wordpress.com/.You should keep in mind that www.mywebsite.com the brand credibility and awareness.
WHY DO YOU NEED A WORDPRESS WEBSITE?
The WordPress platform is a free and open-source website creation tool. It is written in PHP and has a built-in MySQL database where you can easily create a simple and easy website for your business.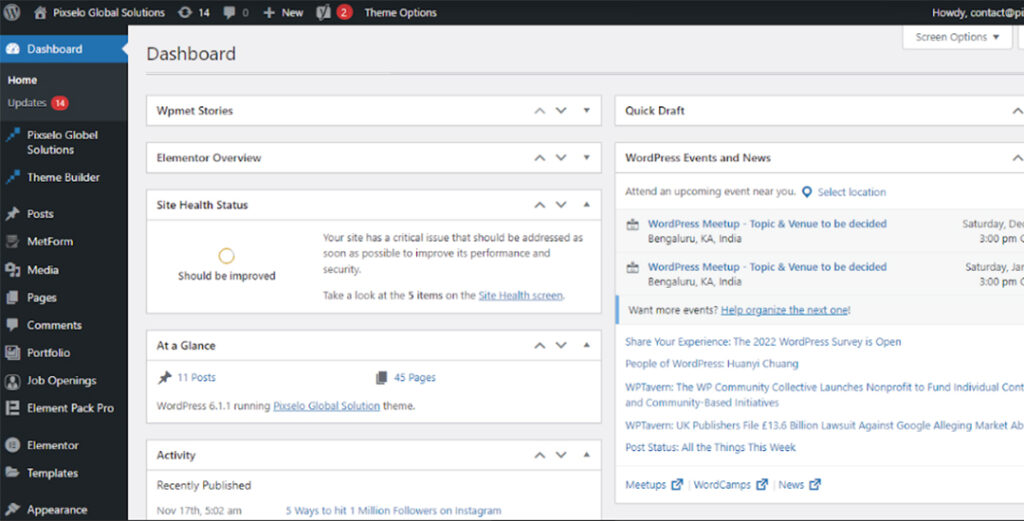 You can find a lot of features on WordPress like templates, themes, add-ons, and plugins for your website. 
WordPress websites tend to rank higher in Google compared to others. The high-quality code of WordPress enhances the structure of your website. 
The best thing is it has SEO-friendly which helps you attract more audiences and grow your online business. 
W3Techs reports that 43.2% of websites are powered by WordPress. 
WordPress is easy to install, deploy, and upgrade, as it reduces the time and cost of developing a website. 
Let's walk through the entire process. As you read this post, you'll be able to build your own website by the end of it.
STEP 1 : Purchase your hosting and domain name 
Your domain name plays a vital role in your business, so a strong domain name helps you achieve your online business goals. The domain name should be catchy and easy to type. Try to keep your domain names as short as possible. 
Start your web hosting by choosing Bluehost. Your site's speed, security, and performance are built and managed by it. 
The Bluehost server is responsive to WordPress software, so I highly recommend using it.
How to host your site?
So first, let's head to www.bluehost.in/ and click on Host Your Site 
Then you will be redirected to the Bluehost pricing page, you can choose any plan of your choice.
These are four hosting plans
Basic 
Plus 
Choice Plus 
Pro
Every plan has a free SSL certificate to add more security to your website, unlimited bandwidth, and more storage.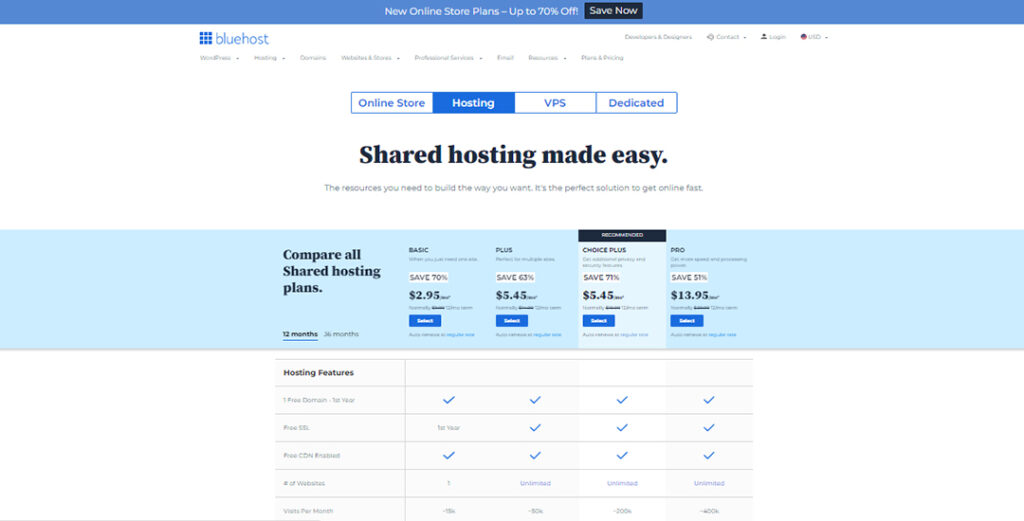 Choose a plan that fits your budget and you can upgrade in the future if you need to. 
Once you choose your plan click on Select, and you will be taken to another page to create your domain name. 
After choosing your domain name you will be redirected to the payment gateway to complete your domain purchase. 
Now you are ready to install WordPress.
INSTALL WORDPRESS WITH JUST A FEW CLICKS USING SOFTACULOUS 
WHAT IS SOFTACULOUS?
Softaculous is an auto installer that simplifies the process of installing web applications. They offer automatic updates, keep your site secure, and add new software regularly.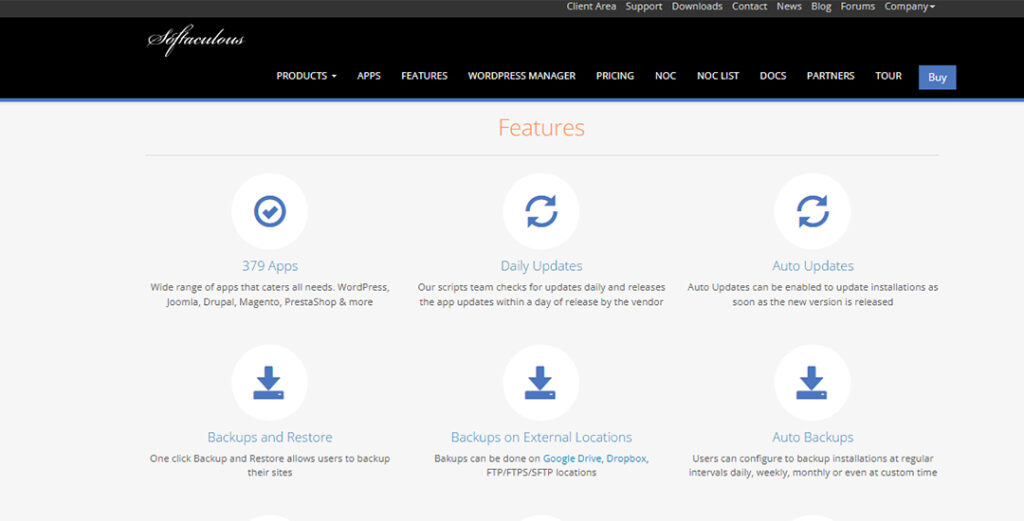 Once you purchase your domain from Bluehost you can see a dashboard. 
Click on advanced, if you scroll down in the dashboard you can find WordPress managed by Softaculous 
This will direct you to the WordPress page, now click on the install button. 
Upon clicking the install button, you will be prompted to fill out the form shown above. 
You can fill in the form with the required details or install it with the default values.
Choose the path where WordPress should be installed
Provide the necessary username, password, and email id for the WordPress admin account
After filling in the details click on the install button to start the installation process. 
Take a deep breath and relax, Softaculous handles the entire WordPress installation for you.
Installation completed 
You can see a success message pop-up window as shown in the below screenshot.
Now you can successfully access the WordPress admin panel.
I hope, you found the WordPress installation process easy.
MAKE YOUR WEBSITE LOOK AWESOME WITH A WORDPRESS THEME 
It can be difficult to choose a theme for your website. WordPress has more than 30,000 themes either to download for free or purchase. You can easily customize designs, add content layout, navigation, and site visuals, and access many other features. And make sure your website must be responsive. About 50% of the users choose mobile viewing. 
Ensure the layout, content, and site structure you plan to publish. Many themes offer live demo so that you can see the look and feel of the website. Once you have finished, click "Activate theme" to complete the installation process.
INSTALL WORDPRESS PLUGINS 
So, what is a plugin?
Plugins are software programs that can be added to your website to enhance its functionality. Simply plugging into your website can increase its capabilities without writing a single line of code.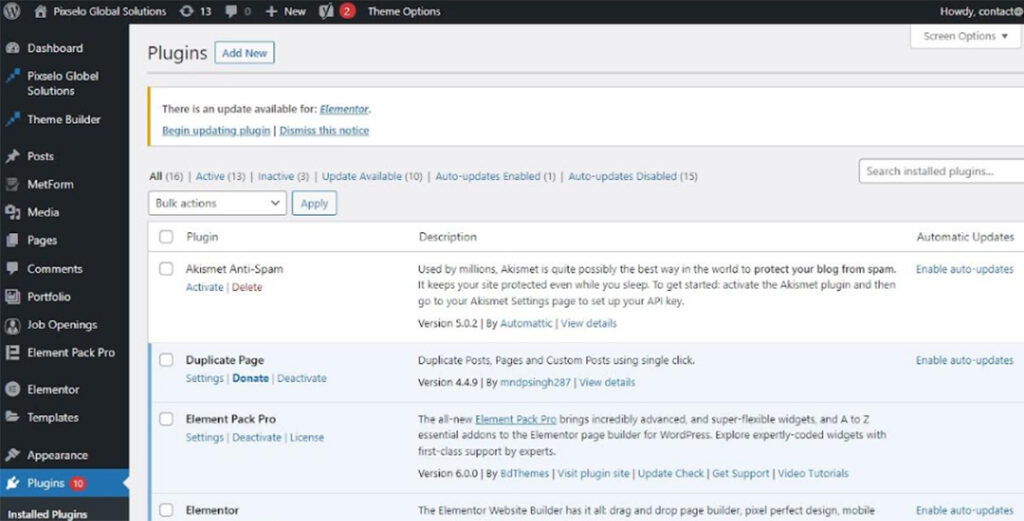 WordPress plugins offer great flexibility and provide desirable features and functionalities for your site and take your business to the next level. Plugins are available for contact forms, Google Analytics, SEO, Emails, and much more.
PUBLISH YOUR WEBSITE
Now it's time to start adding quality content about your brand. Make sure your web pages look engaging and more appealing for your reading. If your website is about blogging make sure you add at least one image for your blog content to make it look interesting. You can create content that speaks about your brand, portfolio, contact form, and products (if you own an e-commerce business). You can prepare your content calendar and decide what and when you want to publish on your website. This will help you track your progress and boost your conversion rates. 
PROMOTE YOUR SITE  Create digital marketing strategies for your business. This will help you reach more target audiences and gain a greater return on investment. You can include relevant SEO keywords in your content, and also meta tags, and title descriptions this will help your website rank on Google.
---